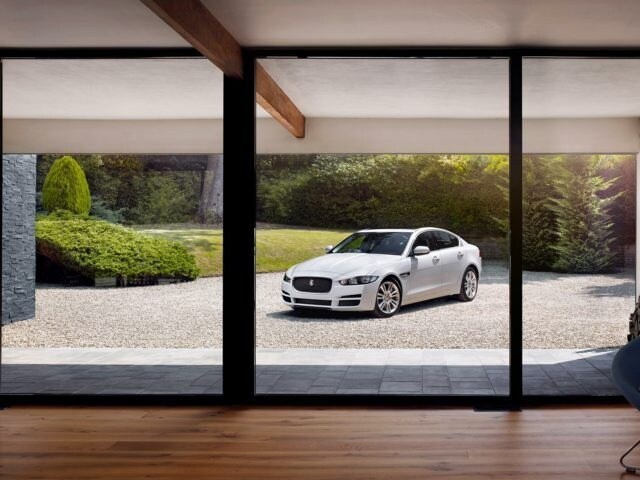 There are some vehicles that enter the market and defy comparison with any other single model, and therefore introduce a whole new segment when others follow their lead. The 2017 Jaguar XE isn't one of them, and that's definitely a good thing because although it's a new model to the American auto market this year, we know what it is and what it wants to be. This is a car that's unashamedly aimed at taking on the all-conquering 3 Series in the compact luxury sedan segment, and although many have tried before, this is the one BMW should really begin to worry about.
Although the styling of the 2017 Jaguar XE isn't a radical departure from the way the cars it's intended to take on look, it's certainly fresh enough and different enough to make its mark. There are some German influences in evidence here with the new Jag, but the XE reworks that styling into something with better balance, although it's certainly not overplaying its hand. The bling is kept to the bare minimum to just make sure you know this is a luxury offering, although the higher trim levels do get a mesh grille, chrome fender vents, and big front air intakes, while the R-Sport performance variants get a unique body kit and wheels.
Once again, the British automaker has stayed clear of being too flash when it comes to the interior of the 2017 Jaguar XE. The cabin offers a somewhat functional look that's confirmed with a good amount of black gloss trim on the console, while the Jaguar signature rotary transmission control rises up from a sea of black gloss plastic. A large new LCD screen dominates proceedings when it comes to the dash, which is the perfect showplace for Jaguar's beautifully updated infotainment interface.
The new Jag doesn't just look good though, it also goes really well too with all engines offering impressive acceleration and the kind of sublime road manners we expect from European manufacturers.
There are four trim levels in the 2017 Jaguar XE lineup, which start off with the standard XE and then go to the Prestige and Premium trims before the range tops off with the R Sport.
The standard engine in all versions of the new Jaguar except the R Sport is a 2.0-liter four-cylinder that develops a seriously impressive 240 horsepower and 251 lb.-ft. of torque. All that power is sent to the rear wheels through a superb eight-speed automatic transmission, which translates into a 0 to 60 mph time of just 6.5 seconds and a top speed of 120 mph.
The middle engine in the family is another 2.0-liter four-cylinder unit, but this time it's a turbo diesel that gets you 180 horsepower and a massive 318 lb.-ft. of torque. This engine again comes mated to that eight-speed auto and it's available with all trim levels of the 2017Jaguar XE and with either rear or all-wheel drive. It delivers the same top speed as the 2.0-liter gas engine, and the zero to 60 mph time is a very respectable 7.5 seconds. However, this is the unit to go for if fuel economy is a big deal to you.
Last up is the real performance engine of the lineup, which is a 3.0-liter supercharged V-6 that's available in all but the base XE trim, and can also be had with either rear or all-wheel drive. This unit gets you to 60 mph in just 5.1 seconds, courtesy of its 340 horsepower and 332 lb.-ft. of torque.
Source: http://www.thecarconnection.com/overview/jaguar_xe_2017
http://www.jaguarusa.com/all-models/xe/specifications/index.html